Standing Seam Metal Panels an Elegant and Practical Choice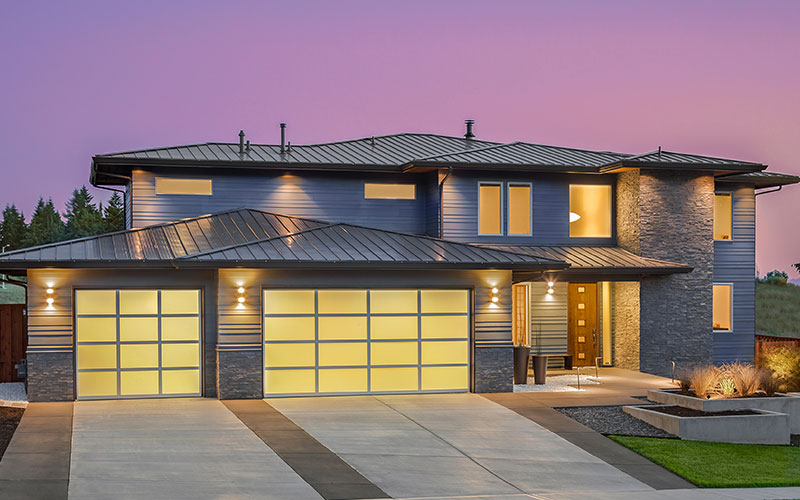 We already know that standing seam metal roof systems offers architects and building owners an aesthetically pleasing and very functional option for their roof design but did you know that standing seam metal panels can also be a very attractive design solution for inside a building or residence as well?
Installing an attractive exterior metal roofing panel as a ceiling option is a clever way to incorporate an elegant, unique and dimensional look to the ceiling or feature walls of any large two story room or entryway with vaulted or cathedral ceilings.
Unlike a wood beamed ceiling the standing seam costs much less to install and adds light and an interesting spatial-affect to the room. The panels range in width from 16 -20 inches and when mechanically seamed into place they create vertical lines that give an illusion of much greater height and length than wood or gypsum. Designing standing seam into the ceiling also gives the architect or designer the ability to choose from an exciting pallet of colors to accent the room. Best of all… the standing seam is maintenance free – it's easy to clean and it never needs to be repainted or replaced.
The installation process is identical to that of an exterior roof except it is installed upside down. There is an inverted ridge cap where the standing seam comes together at the ceiling peak. The standing seam panels can be installed quickly and without the messy dust generated when installing a gypsum ceiling.
Regardless of the ceiling's pitch the seams give the metal panels a cathedral effect that gracefully tapers down to meet the walls. The effect is striking especially in a large great room, loft or soaring two story entryway or staircase. The wide array of color options and the subtle lines and angles will compliment almost every additional choice of material used in the interior design.
And of course the metal panels can also be incorporated into interior wall designs as well giving architects and building owners limitless possibilities when designing interior spaces.