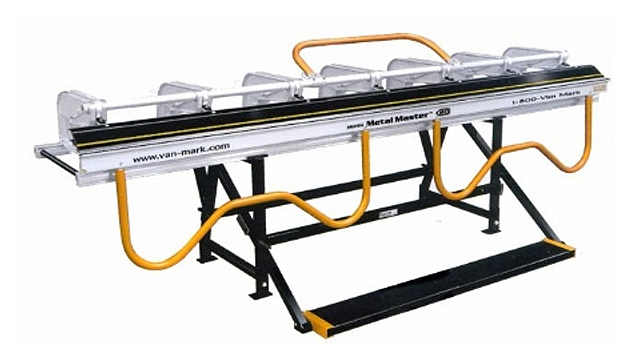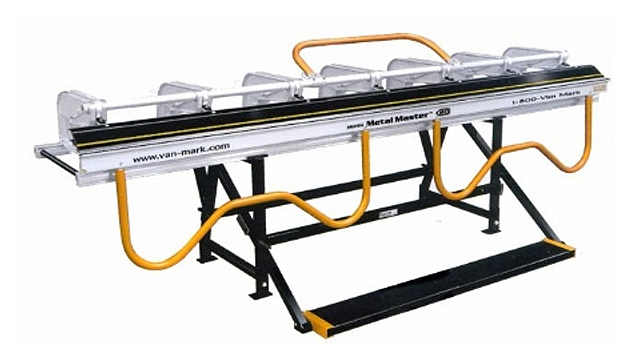 Metal Master Folding Machine
The Industrial Metal Master® 20 is the only portable 20 ⅜" (51.8cm) throat brake, giving you more flexibility to make the complex bends now in demand with metal & commercial roofing jobs.
The Industrial Metal Master® 20 comes with the latest in computer-aided design and manufacturing to provide the best one-stop-shop for all your job site bending, from "W" style valley-pan & rake edges, to soffits & roof flashings, including wide hip and ridge cap, HVAC duct & plenum work, to name a few.
Machine Technical Specs
Materials Formed
Aluminum – .050.
Galv Steel – 22 ga.
Painted Steel Grade D – 24 ga.
Copper – 32 ga.
Zinc Alloy – .050.
Stainless Steel – 24 ga.
Model IM654
Length: 6'6" (2.0m)
Castings: 5
Lbs/Kg: 201 (91.2kg)
Model IM1054
Length: 10'6" (3.2m)
Castings: 7
Lbs/Kg: 259 (117.5kg)
Model IM1454
Length: 14'6" (4.4m)
Castings: 10
Lbs/Kg: 340 (154.2kg)
Model IM854
Length: 8'6" (2.6m)
Castings: 5
Lbs/Kg: 211 (95.7kg)
Model IM1254
Length: 12'6" (3.8m)
Castings: 9
Lbs/Kg: 315 (142.9kg)
Machine Features
Strongest computer engineered castings for unmatched strength.
Deepest throat available for working with wider materials.
New reinforced Power Lock™ bar for better clamping force.
Increased bending radius. Make 180º hem bends easier than ever.
Adjustable clamping jaws with the largest opening in it's class.
Ergonomic heavy-duty bending handles for improved leverage.
Machine Options