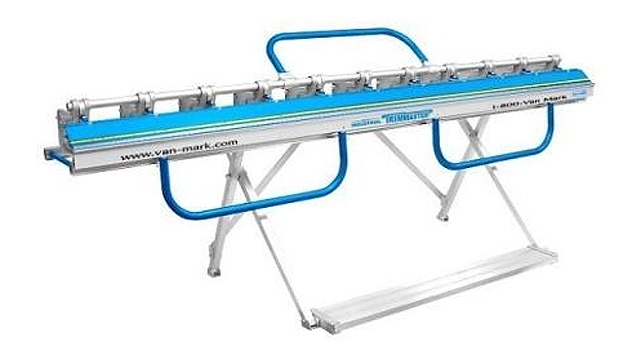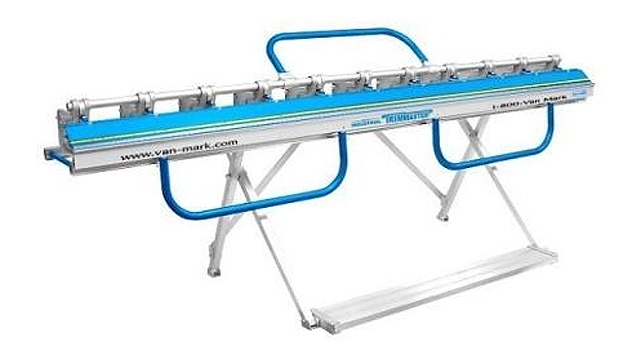 Folding and Shearing Machine
The Mark IV Industrial TrimMaster® provides single user setup and operation in the shop and on the job site. Non-marring vinyl strips protect clad finishes leaving clean crisp bend lines and hems. Our unique cam-locking system clamps to the thickness of the material and not to a factory preset.
Should you ever need to fine-tune your brake, each casting comes with independently adjustable UHMW plastic wedges.
Machine Technical Specs
Materials Formed:
Aluminum – .050
Galv Steel – 20 ga.
Painted Steel Grade D – 24 ga.
Copper – 24 ga.
Zinc Alloy – .050
Stainless Steel – 24 ga.
Model IT663:
Length: 6'6" (2.0m)
Castings: 7
Lbs/Kg: 119 (54kg)
Model IT1063:
Length: 10'6" (3.2m)
Castings: 11
Lbs/Kg: 176 (79.8kg)
Model IT1463:
Length: 14'6" (4.4m)
Castings: 15
Lbs/Kg: 235 (106.6kg)
Model IT863:
Length: 8'6" (2.6m)
Castings: 9
Lbs/Kg: 148 (67.1kg)
Model IT1263:
Length: 12'6" (3.8m)
Castings: 13
Lbs/Kg: 206 (93.4kg)
Machine Features
Heavy-duty extruded aluminum shop stand included with every Mark IV. The Xtreme™ Shop Stand will not rock, rattle, roll or rust. Unit is fully detachable and collapsible for easy fast setup and transport.
Hollow-core fixed hinge, bending hinge and base rail design makes this one tough brake. New FTA system (Fine-Tune Adjustment), means you still have control over adjusting your machine, though you may never need to.
Mark IV Industrial TrimMaster has the strongest bending capacities you can get in a portable brake.
Unique Cam-Locking system locks to the thickness of the material.
Full loop locking and bending handles are ergonomic and provide for single operator use.
Heavy-duty hinge provides years of dependable service without material curling at the ends or sags in the center. Mark IV Industrial now works with TrimCutter™ for quick clean material cutting right on the brake. TrimCutter™ does not ride off the brake during cut.
Machine Options
Knives made from 100% hardened tool steel.
FTool uses 4-point roll bearing track system.
Use with Mark I , II, IV and Metal Master 20™ Series Brakes.