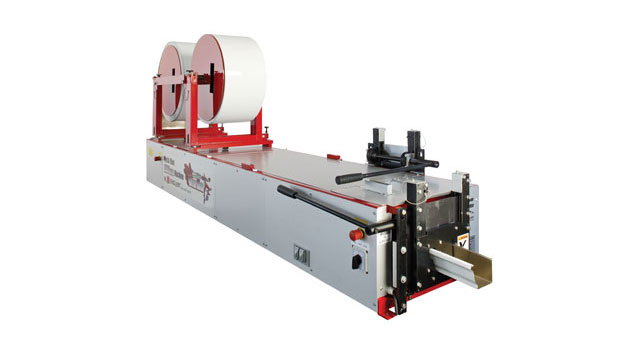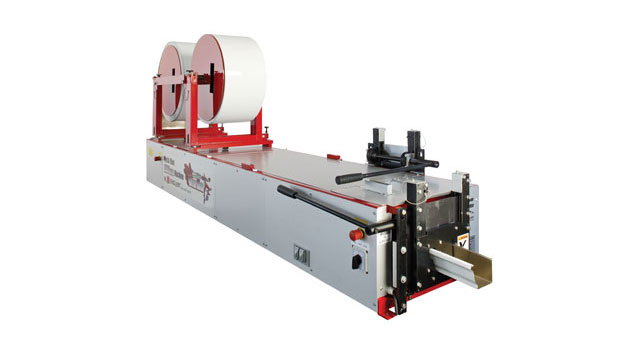 K-Style Seamless Gutter Machine
The most versatile K-style seamless gutter machine to hit the market in 30 years, the MetalMan 555 features a separate polyurethane drive roller system with chromed free floating forming rollers.
This machine drives all materials up to 24 gauge steel with ease, and eliminates the excessive pressure of driven forming rollers, which allows a much wider variety of materials to be run. Double rack and pinion shear ensure long life and easy cutting of all materials up to 24 gauge steel.
Part # 01314P
Machine Technical Specs
Specs
Length – 95.5 in. (2.42m).
Width – 24 in. (61 cm).
Height – 43.25 in. (1.09 m) to top of reel.
Weight – Approximately 1,000 lbs. (453.59 kg).
Power
1 HP, 110V, 1 Phase TEFC motor, 13.6 AMP.
Forming
Dedicated powered polyurethane drive rollers via chains and sprockets.
Shear
Mechanical guillotine using double rack and pinion system.
Speed
Approximately 45 ft. (13.7m) per minute.
Controls
Forward/Reversing drum switch with jog button and Entry and Exit End emergency stop switches.
Factory set free floating chromed forming rollers.
Welded tubular steel frame.
11-3/4 in. (298.4mm) to 12-3/8 in. (314.33mm) wide.
Maximum Gauge of Materials Formed
Steel – 24 gauge (painted, galvanized, aluminized).
Aluminum – .032 in. (.81mm).
Copper – 20 oz. 3/4 hard.
Machine Features
Free floating chromed forming rollers.
Mechanical guillotine utilizing double rack and pinion shear.
Exit end forward and reverse drum switch with jog button.
Two independently mounted easily reversible reel stands, with two adjustable width reels.
Limited 5 year parts warranty.
Runs aluminum, copper, painted or galvanized steel.
Operation and adjustment manual.
Machine Options