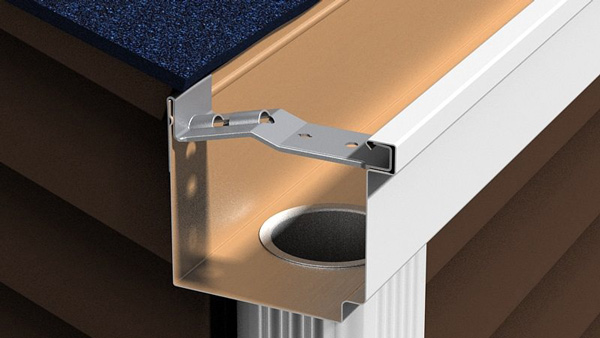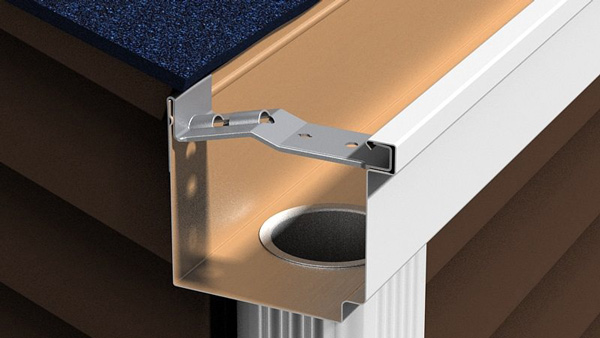 Seamless Gutter Machine
Our Series 56X Seamless gutter machine is the only machine capable of producing the Series 56X Design Series system. The 56X is a large capacity gutter that looks like a 5" gutter but performs like a 6". It comes with our patented ScratchGuard(™) Paint Finish and is available in a wide range of designer colors.
Series 56X has been tested by the Good Housekeeping Institute, and carries the Good Housekeeping Seal and warranty. Enjoy the confidence that comes from knowing that not only do we believe in our product, so does Good Housekeeping.
Part # 01315P
Machine Technical Specs
Specs
Length – 119.5 in. (303.5cm).
Width – 24 in. (61 cm).
Height – 47.75 in. (117.3 cm).
Weight – Approximately 1,400 lbs. (635 kg).
POWER
1 HP, 110/220V, 60/50 Hz, single phase
Forming
Powered polyurethane drive rollers via chains and sprockets.
Shear
Guillotine style double rack and pinion gear system.
Speed
Approximately 40 ft. (12.2m) per minute.
Controls
Forward / Off / Reverse Drum Switch
Jog / Run Switch
E-Stop and safety switches
Maximum Gauge of Materials Formed
Width: 13 5/16"

Painted steel: 24 gauge maximum
Galvanized steel: 24 gauge maximum
Aluminized steel: 24 gauge maximum
Ternecoat steel: 24 gauge maximum
Aluminum: 0.032" maximum
Copper: 16 oz ¾ Hard
Machine Features
Each component of the system, from the miters and endcaps to hidden hangers, was designed to achieve a refined architectural profile that looks like part of the house, not something added on.
The 56X system is seamless - the gutters are custom-formed and cut to exact specifications at the customer's house.
Secured to the home by heavy-duty internal hangers which give your gutter system maximum strength and durability, yet are totally concealed from view.
Larger bottom and downspout to help remove rainwater faster.